Welcome to Labrador Retriever Rescue Southern England's website.

LRRSE is a UK charity whose aim is to unite pure bred and Labrador Retrievers crosses with loving new homes.
We cover the areas of Sussex, Hampshire, Dorset, Kent, Surrey, Middlesex, Buckinghamshire, Berkshire, Oxfordshire,
Wiltshire, Hertfordshire, Essex, Northamptonshire, Gloucestershire, Somerset, Cambridgeshire, Suffolk, Norfolk and London.
STOP PRESS
Dogs From China
We are delighted to that the remaining 10 Labradors are now safely in the UK with us. Louise and her sister Janeen travelled out to Beijing on the 17th July and returned Sunday 21st July with all ten beautiful Labrador. You know the saying…If a jobs worth doing – do it yourself! After many let downs and empty promises we knew the only way to get these dogs here was to go and get them ourselves.
This is their story...
"Would you like to go to China"?
"No"!
"Would you though, if it meant you could save 10 Labradors that had been rescued from the meat trade"?
"Yes, if It is the only way to make sure they're safe"!

And so the story started…
As a regular NON traveller there are lots of obstacles that require not only thinking about but processing in minute detail before they can be put into action (well in my brain, that's the way it works!)
We were very fortunate to have several wonderful people who not only gave us very useful advice but saved my sanity (probably at the cost of their own...) as I bombarded them with lots of what if's and questions on so many things. Kerry Lawrence (Candy Cane Rescue), you were a star and my great thanks and gratitude to you for your support along the way. As the airline regulations stipulate that one person can only travel with five dogs, my lovely sister Janeen offered to accompany me so that we would hopefully be able to bring all ten dogs safely to the UK.
To cut a VERY long story a little shorter after very many stressful days and sleepless nights we had accommodation and flights booked but still no visa to stay in China. Several visits to London the week before our travel days and we finally have our visa's and the 5 day countdown then began...
So, we boarded the first of many trains and planes to get us to our destination Beijing. If I said I was scared of travel (Yes I really am!) then I can now happily say that I am happy on a train or a plane, the travel was the easy bit.
The journey was long but trouble free and Janeen & I arrived in Beijing feeling VERY hot and exhausted. I have never placed myself or anyone else in a position of not knowing where we were going, who we were meeting, etc. until this trip and it took me WAY outside of my comfort zone. Thankfully due to my absolute attention to every detail (even the ones my mind made up!!) before we left and the friendly welcome, hard work and dedication of a few very special Chinese ladies, our trip was a smooth one.
On day one we were collected from the hotel by Molly who had rescued what would be our Labradors. Their story is hard for us in this country to really comprehend in its full horror. Molly had been at the abattoir to try and save what dogs she could when a breeder arrived to sell her Labradors as she was finished with them! They were to become a meal! I am still not able to process this into real terms. Molly had to offer the lady a higher price for the dogs than the abattoir rate to secure their safety and all of them were taken by Molly to her rescue yard.. In China it would seem there is a lot of dog breeding going on but from my understanding, without any of the licensing etc that is required in our inept system. By comparison our system would appear to be a god send to the dogs over there. Dogs are bred and sold on very cheaply regardless of pedigree, breed or mongrel. The ladies words still ring in our ears "the dogs over here have no worth to anyone" how VERY sad is that, these beautiful souls are considered as nothing, no higher regard than local street rubbish. My heart breaks for them all. The cats don't fare any better either.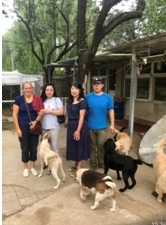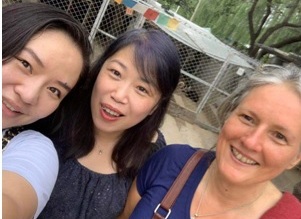 We were taken to meet the dogs in the rescue yard they call home and by Chinese standards the dogs were very well cared for and what beautiful natured dogs they are, regardless of their breed as there are lots of different breeds all living together in the rescue yard, they are all wonderful souls. I will at some point soon be sharing some of the other dog breeds, from the rescue, that so deserve to be offered wonderful futures away from China in the hope that we can find a rescue here to help them.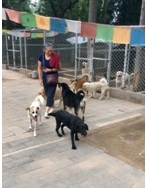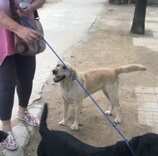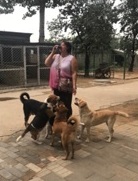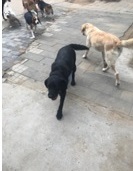 To the Ladies that save and volunteer to help the dogs, we are in awe of your amazing work and complete dedication to the plight of the animals in your country. Unlike the UK there is very little support of rescue work and no funding of any kind. These ladies work hard and sell what they have to rescue these dogs and keep them safe until they can be homed safely (which really means abroad). Even when rescued by them and "safe" at the rescue kennels the task is not over. People have thrown poisoned food, coins, anything into the yards for the dogs to eat in the hope that they would be killed, so now their yards are set-up so that the dogs can't access anything that can be thrown in. There are, it seems, no long term yards as the rescues have to keep finding new places to rent land to keep the dogs safe. We were told that land cannot be purchased in China, it has to be rented from the government.
That was the beginning of their journey to a good life here in the UK. The lives of these 10 Labradors would soon be very different once we had them safely loaded onto a plane and on their way to the UK. No small task, there are only a couple of airlines that will travel dogs in the hold as the holds need to be heated and the aircraft needs to be of a large size.
We had another day of waiting before we were all booked to come home. Even then we had to fly back on separate planes as the quantity of dogs allowed on the plane is limited.
We arrived at the airport to be met with a sea of large dog crates, a sight I am sure that Janeen and I will never forget. All of the 10 dogs were so well behaved and quiet in their crates, almost as if they knew the outcome was going to be good for them. The first 5 were put through the security procedures and went for loading, whilst Janeen went off through security to the boarding gates. The last 5 myself and the rescuers then had another 2-3hour wait before my dogs could be passed through security for loading and I could go through to boarding.
I can't tell you the relief I finally felt when that plane took off and we were on our way, all we had to do then was safely get on our connecting flights in Moscow and trust that the dogs would be transferred safely to the next plane. Sounds easy but I can tell you lots of "what if" scenarios were created in my brain for EVERY SINGLE step of this whole journey from start to finish!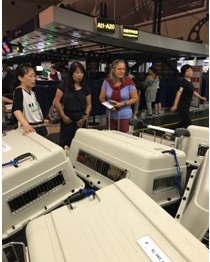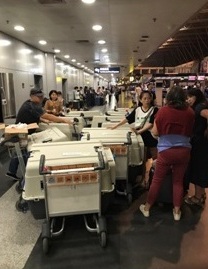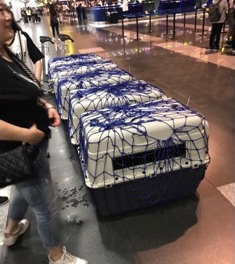 THEN, hooray, we finally land in Paris. All we (Janeen & I) have to do now individually is find our dogs and get all 5 (not a small task as the crates are very large and very heavy and only one will fit onto a trolley) through nothing to declare in one move as you can't come back to get one if they don't come through with you. Thank you to 101 Pet Express who had prepared us to expect this and had armed us with the knowledge we needed to create a train of trolleys to push them through and to the oversized baggage staff that did actually end up walking through customs with us with the dogs.
Once through it was over to 101 Pet Express who were waiting to greet us and take care of the dogs and get them loaded for the road trip home.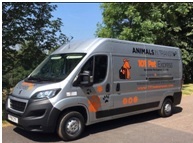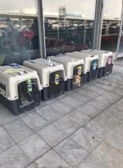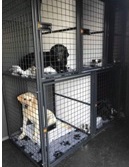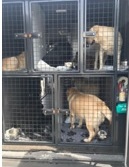 You guys were AMAZING and made this transition so easy for us and especially the dogs. Thank you.
After saying goodbye to the dogs we had one more task, to prepare the kennels for the arrival of our very special dogs. Green Lane Farm THANK YOU, not only did you accept the dogs late on a Sunday night, you went the extra mile and staff (Kelly, Keira & Amy) came in to exercise, feed and give these babies some very well needed and deserved chill out time.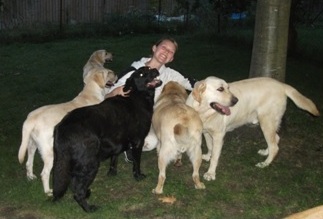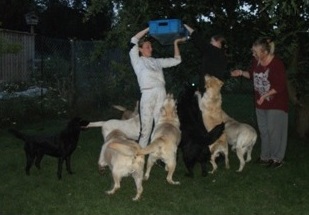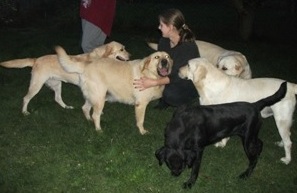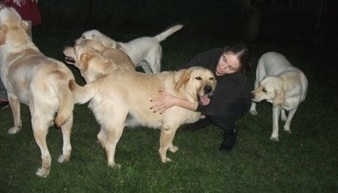 Whilst in China other than the dogs at the rescue yard I only saw 2 dogs in Beijing city. You can only ask yourself WHERE ARE THEY ALL but in truth unless they are travelling to safety you really may not want to know.
To my sister Janeen, THANK YOU for coming with me and helping me to survive one panic attack after another that I had during our stay. We also had the support of a lovely lady in China (Doe Doe) who works with the rescue people in China to get as many dogs as possible safe and to her we must say a huge thank you.
RESCUE REALLY IS A TEAM GAME from the Lovely ladies that we met in China to all the people that have helped us get these babies home and sorted safely and happily we can only say THANK YOU ALL we really couldn't do it without you. To our volunteers, helpers , supporters and adopters everyone that plays a part we THANK YOU.
Louise & Sue.
Your donations and legacies make our work possible. Saving just one dog won't change the world but it will change the world for that one dog!

Please help us save that one dog by donating just the price of a cup of coffee.


To make a donation through PayPal please click on the button below:


Meet Cassie & Poppy our first beautiful China Girls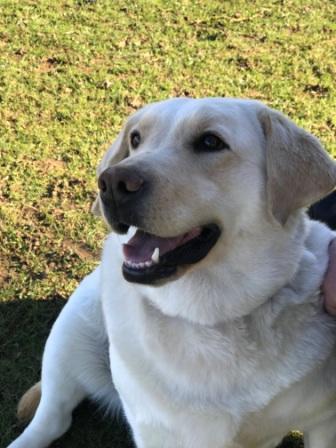 Cassie and Poppy are two of 12 Labradors that has been saved from the dog meat trade in China. We were contacted recently and asked if we could help these dogs and after hearing their heartbreaking circumstances and seeing their photos and videos we have pulled out all the stops to help. We have found that so many people here are unaware of the dog meat trade and we will try to talk about this without being too graphic as this is such a vile and barbaric practice. All of these dogs were saved from the slaughter house by a team of dedicated animal lovers and were taken to kennels in Beijing where they have remained for over a year. During their time at the kennels they have been able to socialise with each other and play in small safe enclosures but for the dogs safety, have not been taken for walks. They have all been neutered and spayed and had all the vaccination and now have passports.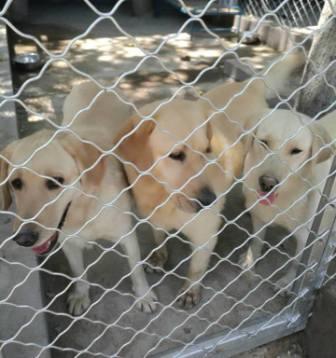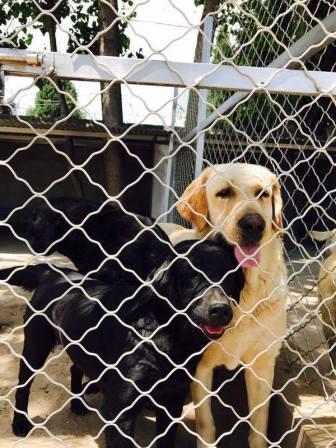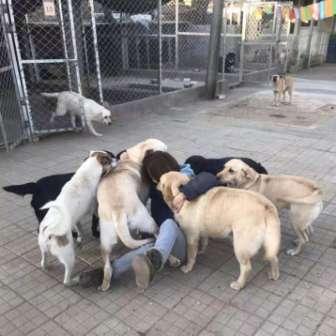 We were delighted when the first girl was flown over on the 2nd February and we called her Cassie. She is the sweetest, most gentle girl you could wish to meet. She was very overweight through lack of exercise but otherwise perfect. She was placed in one of our foster homes with Philip and Wendy and their dog Marley. Philip told us that she was a really good girl and loved to play with the other dogs at the park. Cassie went on to be adopted by a couple that absolutely adore her and now with good regular exercise and diet she is now a much trimmer girl.
Poppy was the second girl to arrive in March and she also went straight into a foster home. Her sweet nature was apparent right from the moment she stepped out of the travelling crate. She looked up at me and then stood up on her hind legs, wrapped her paws around me and pushed her head against me and gave me the biggest 'thank you' hug I have ever had. Yes, she reduced me to tears! Poppy's fosterer was also smitten with her and has now happily adopted her and Poppy lives alongside two other rescue dogs who are always up for a game with her.
We are currently arranging for some more boys and girls to come over to our care and will have more details of them in the next couple of weeks. To help each dog costs us between £600 - £700. If everyone just donated £2 (less than the price of a coffee) it would go to help another Labrador on their way to a happy and safe life here. To donate go to the donate button at the bottom of this article and please mark your donation CHINA DOGS.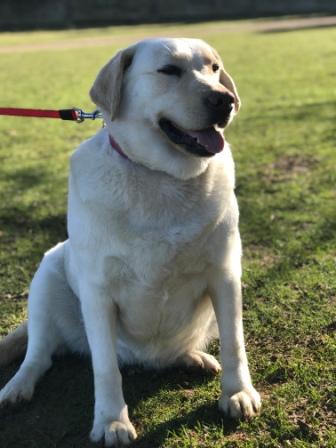 This is a little information about the dog meat trade in China.
For the lucky ones some trucks are stopped by the Chinese animal activists and are managed to be saved but not all make it as they can be severely ill with the treatment they have had to endure. The dogs can be stolen pets from families, strays that have been caught and dogs that have been bred in dog meat farms. They are sold by their weight but most of the dogs when they are saved are so emaciated and weak. There is a great network of Chinese activists who put their heart and soul into saving dogs in their country without them the rescue of these dogs would not be possible.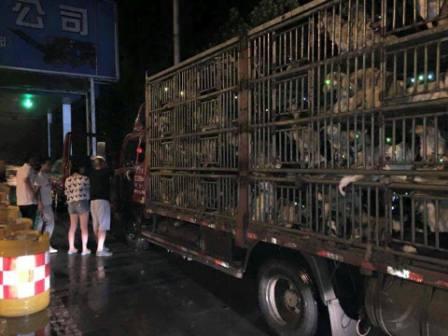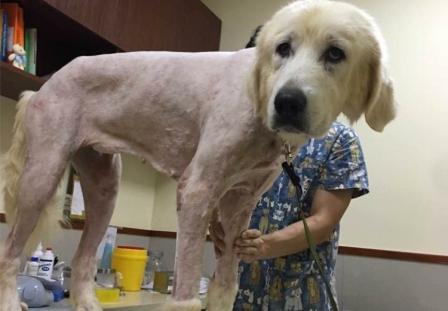 When the dogs are rescued they are taken to a vet to see what damage has been caused after their ordeal. They are then placed in boarding kennels where they can start building strength and gaining weight and generally becoming more healthy. The dogs travel to the UK with a full passport which allows them into the UK after months of blood tests to make sure they are healthy. Spreading the word about this cruel trade is very important and the more people that are aware of what happens, the more chance of change to this vile practise.


We have been asked before now "Why do you help foreign dogs when we have dogs in this country that need help". The simple answer to this is, we help every dog that we are asked to help in this country and have never refused to help a UK dog because we had too many" foreign dogs". We have helped find new homes and supported financially thousands of dogs over the years and probably less than 5% have been from outside the UK.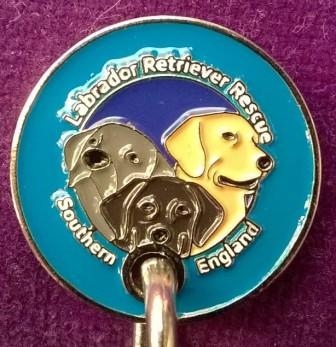 Can you spare us a little of your time?
We are a breed rescue, staffed entirely by volunteers and we are always in need of helpers.
If you own or have knowledge of the Labrador breed and feel you could spare a small amount of time each week, we would love to hear from you.

In all areas we need:
Home Checkers
Fund Raisers
Fosterers

Could you spare an hour each week to walk a dog?
We need dog walkers in Surrey KT9 area

If you have a little more time to spare, we also need:


Assistant Coordinators
To work alongside the existing coordinators developing knowledge and skills to ultimately progress to area coordinator.


Foster Coordinator
To monitor and coordinate our foster homes.


Transport Coordinator
To organize transport runs to move dogs into their new homes using our network of helpers and volunteers.


Assistant Fund Raising Coordinator
To help organize fund raising events and to work as part of a team developing new ideas.

We also have several projects/jobs that just need people who are fairly computer literate and who can make a few phone calls for us.

Please click here for contact details.






We are currently in need of:

Collars
Leads
Dog beds
Dog Toys - Balls etc.

We honestly value your help and support.
Please help stop Labradors from being euthanised
Over the past 10 years we have helped find wonderful homes for many beautiful Labrador and Labrador X's from Ireland but without your help a huge number of Labradors both young and old will be euthanised because of lack of funds to help them.
To read more please click here
Please visit our Just Giving site and help save a life of a beautiful Labrador
Your donation however small will make a difference.

Help us raise funds, and save the environment too, by recycling your empty printer ink cartridges.
Its FREE to send in your cartridges, plus the cartridges will be reused.....a much better environmental option, plus we will receive a donation for the cartridges that are sent in.
Please click on this link to see what cartridges can be reused and for full instructions on how to send them in http://lrrse.ink2cash.co.uk/
Microchip Updates
It is now necessary for all animal microchip details to hold the current details of the keeper of the dog. So if your dog was chipped when you adopted him from us, you need to make sure we have your details against the chip. It is obviously going to involve a huge amount of work for us and your patience and understanding will be vital while we work our way through all the changes.
We need you to send us:

Dogs name when adopted from us
Month & Year the adoption took place
Dog file number if known (i.e. 1234/Smith)
Chip number if known
Your name
Address
Land line telephone number
Mobile telephone number
Email

The chip will be changed to you as the keeper of the dog and with LRRSE having an interest in the dogs welfare throughout his life. Once the chip details have been updated by the relevant chip company, they usually send you confirmation that the changes have been noted. Please email your details over to sue.lrrse@gmail.com