This page was last updated in November 2021 - Most dogs that come into rescue have training and/or behaviour problems that will need continued work, so if you are looking for the "perfect, easy, well trained dog" then we are unable to help you at the moment. However, if you are totally committed and do really want to help a "RESCUE" dog then we will be happy to receive an application form from you. Once you have sent us your application form, we will initially acknowledge receipt of it and will contact you if and when we have a suitable dog for you.
Just some of the dogs we currently have looking for new homes:

Sydney
2 year old Sydney is a LabX Pointer. He is neutered and vaccinated. He has lots of energy and enjoys playing hide and seek. He can get anxious with sudden movement and has some guarding issues but with the right owner these issues can be solved. He is excitable around other dogs and barks but has actually lived with another dog so with more socialising this will improve. We are looking for an all adult, country or fairly rural home and with people that can give him lots of time and exercise.
Sky
8 year old Skye is a spayed Husky who is currently in one of our foster homes. She loves human company but can be left for 3 to 4 hours. She is very affectionate but sometimes just likes her own space. She needs a loving home with no young children, teenagers would be suitable. She does need to be an only dog as she does not like dogs approaching her head on. She is good on the lead and really enjoys her walks.
Please do not phone or email us asking for more details of dogs that are on the website as we initially need to register and home check you to ascertain a suitable match. Go to our contact page to download an application form and an information leaflet.


Please click here for details.

We are currently looking for foster or forever homes for the following dogs that need understanding, patience and work on different points. You need to have a child and pet free home and have experience and time to give to helping them.If you feel you could help then please contact either sue.lrrse@gmail.com or louise.lrrse@gmail.com. You will need to complete an application form either to foster Fostering application form or adopt Adoption application form and information leaflet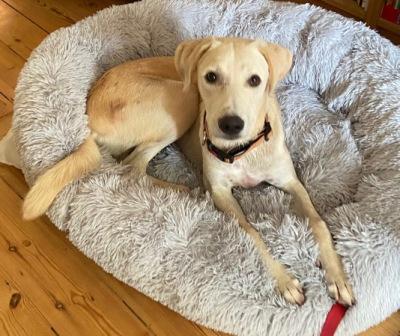 Bobby
1 year old Lab X Bobby is neutered and vaccinated. He is a very nervous boy. More trusting with women than men. Not happy around children, strangers or visitor in home. Looks happy to see other dogs, although not tested off lead with them. He is far more confident when outside the home, so will need time to conquer his fears.


Bentley
4 year old Lab X Bentley is neutered and vaccinated. He has a high prey drive so needs to be in a pet free home. Fearful of bikes, joggers, loud vehicles and some dogs he will take a dislike to. Can be possesive of bedding and toys. Very loving and affectionate once he knows and trusts you.

Badger
1 year old RetrieverX is neutered and vaccinated. He is an affectionate boy that needs a calm adult home. He can be possessive with things.Good with other dogs.


Note to adopters:
Lassie, Rin Tin Tin and Toto do not show up in rescue. We do not get the elegantly coiffed, classically beautiful, completely well trained, perfect dog. Many never had good veterinary care, kind or consistent training, or sufficient company. Some have lived outside, or left alone for many hours every day. When rehomed they are scared or depressed and anxious and will act out of character but time, patience and love will solve this. When you take on a rescue dog you need to be 100% committed to making it work, ride the storm but do not ever give up. We at rescue never give up on a dog. We know that a dog is a living being, with a spirit and a heart and feelings. Our dogs are not commodities, things, or garbage. They are part of lifes sacred creation and they deserve as much love and care and respect as Lassie, Rin Tin Tin or Toto. So please, please do not come to rescue in the hopes of getting a "bargain" or "a fully trained dog". Come to Rescue to give, to love, to save a life -- and to mend your own spirit. For Rescue will reward you in ways you never thought possible. We can promise you this -- a rescue dog will make you a better person.