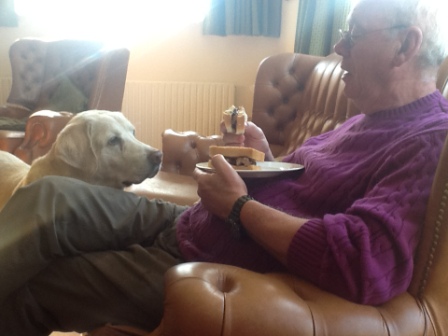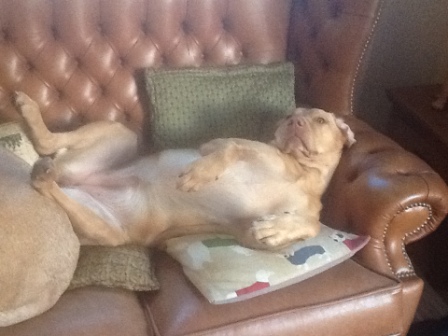 Providing a home environment where a dog gets individual love and attention is far more preferable than a kennel environment. A domestic situation where they can stay, ideally, until their forever home is found, is so important for them.
Fosterers provide us with invaluable information about the dog and we encourage regular updates with the dogís progress. This information helps us to ensure we match the dog to the right home. The fosterer will review and confirm knowledge held about the dog, such as housetraining, acceptance of visitors, car travel, adaptability, behaviour on being left, to mention but a few key points.
For dogs that come to us in poor condition e.g. under or overweight, infected ears etc, these conditions are better managed in a home environment and our fosterers provide vital care for these dogs. Occasionally we will have a dog that requires surgery and their aftercare will need to be in a comfortable home.
Dogs coming directly from their surrendering homes can be matched to a suitable foster home and avoid them going into kennels. The benefits of our foster homes is not only of benefit to that dog but also allows us to optimise available kennel space, enabling us to help another dog. Some of the dogs we help would have been put to sleep if LRRSE could not take them in and by fostering you are playing a major part in this.






Can you answer ďYESĒ to the following criteria?



Are you an experienced dog owner even if you do not currently own a dog?

Do you have a secure garden that is solely for your use?

If you work, are your working and travelling hours 4 hours or less per day?

Are all the family living in your house supportive and committed to fostering a dog?

If you have a dog/s already are they friendly with other dogs and are they all neutered/spayed?

Do you want to help change and save the life of a dog?

If you answer Yes to all of these questions then we would love to hear from you.

If you have other animals (cats, rabbits etc) and /or small children we may not immediately have a dog that we feel could cope in that environment but we will be in touch as soon as we have a compatible dog.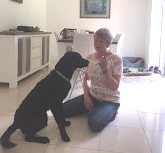 Most commonly asked questions: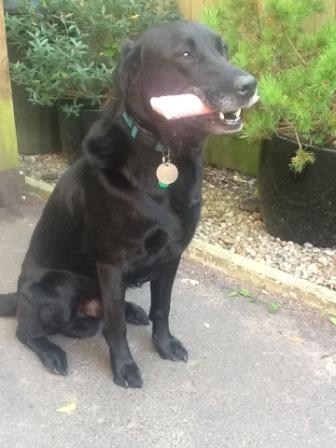 Q... What expenses are covered?

A... Most of our fosterers will provide food for the dog but if the dog, because of medical reasons, is on a special or expensive food then we will cover this. All veterinary treatment is covered. A mileage allowance is available when collecting or returning a foster dog.






Q... How long will the dog be with me?

A... Providing foster care for a dog until a forever home can be found for him/her could be a few days, a few weeks or a few months, depending on the dogís needs and the suitability of the homes that are applying to us. If you are only able to provide a foster place for a short time, then we will try to match you accordingly. We often have polder dogs that may need an end of life foster place and again, this is something we will discuss with you prior to you foster a dog for us.






Q... What happens if I have a holiday booked?

A... We will either arrange another foster home or kennels for the dog whilst you are away.






Q... What happens if I fall in love with him and want to keep him?

A... Let us know as quickly as possible and on most occasions we will allow you to proceed with an adoption.





Q... What age of dogs need foster home?

A... All ages from young dogs to elderly dogs. Each dog has its own individual requirements, which is something we will discuss with you prior to you welcoming a foster dog into your home.





Q... Do we get any advice or support?
A... We are always available to offer any support or advice needed.





A Few Words From A Fosterer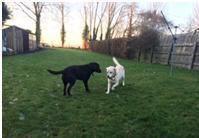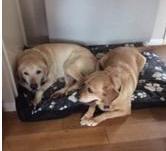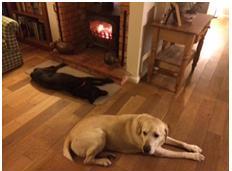 It took me 8 years to convince my husband we should get a Labrador. With two teenage children and an amazing 7 year old Labrador who is well and truly part of the family, I figured convincing him recently that we should get a second Lab was near impossible... and I was right!
Thatís when I came across LRRSE and the opportunity to foster dogs while forever homes are found for them. Most of the dogs I have fostered have only stayed a week or two and LRRSE are always on hand with advice and equipment if needed. In fact, I think some weeks we may speak to each other more than we speak to our husbands!
LRRSE always check with me beforehand to make sure Iím available and happy to take on another dog. In reality they are kindly checking that the kids, husband, cat, chickens and our very chilled out, ĎIíll show you the ropesí dog, are in fact happy to proceed.
All of the dogs we have welcomed into our home have taken anywhere from 2 to 24 hours to settle, sometimes longer, and this can be a worrying time for them and for me but eventually they have all come around to our family routine. Including nearly all of them boarding the school bus. Of course we, mostly I, fall for the odd foster dogs and would happily keep them. However, seeing the dogs I have cared for go off to their forever homes, with people who have come to LRRSE asking to rehome a rescue Labrador, means more to me than keeping them for myself. The buzz I get when these kind hearted people turn up, full of excitement and enthusiasm to meet their new dog, gives me such pleasure and reassurance that Iíve done something worthwhile which encourages me to do it again. I think the husband secretly enjoys it too but given his track record, I think it may take me another 8 years to convince him again.
Karen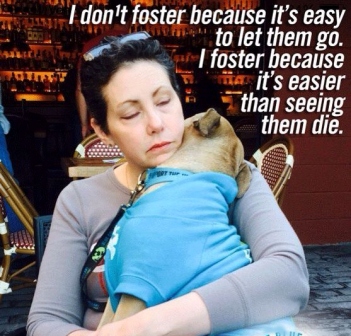 Some of the lucky boys and girls that have been fostered and are now in their forever homes: